Best Online UAE Visit Visa Services to get your Tourist Visa Easy in best Price. Apply Visitor visa of Dubai, Abu Dhabi and Sharjah for 96 Hours Transit, 30 Days, 60 Days Long Term , 5 Years Multiple Visitor Visa for your family plus friends. We are offering Instant Single Entry, Multiple Entries Visas and all Travel Services with high Professionalism and Care to win our client satisfaction. Dealing almost with all nationalities except those which are restricted or people having bad records in immigration.
To Ensure speedy procedure of e UAE Visa (فيزا الى الامارات) and Best dealing with clients is our Top Priority. We are serving in Travel & Tourism field for many years having strong grip on solving problems and professional team keep us on Top in Travel & Tourism sector of UAE. 7 Emirates is an attractive recreations spot to spend holidays in reasonable budgets with all Luxurious facilities. Having peaceful and well known famous places in country bringing more prosperity development in all departments of life. So Plan your memorable Trip with us and save more money for long Staycation. We are Providing Online Fast Visa UAE  facility in Dubai, Abu Dhabi, Sharjah and Across all over world in Best Processing Fees.
Now you can apply your visa any time and check online your visa application status now no need to be worry about time and day just apply stay calm and receive your visa Confirmation email.
Our processing is very fast and mood of payment is fully secured let us do your work with care and love to provide friendly service to clients is first Priority.

Special free assistance on important issues like

OK TO BOARD

and other legal documentation which is necessary to clear from immigration smoothly without spending more time.
We are also Providing UAE Visit Visa Extension in Current Day. If you have Visa from Dubai, Abu Dhabi or Sharjah we will Process your Visa Extension Fast & Smooth. Make Sure to extend your Visa on time for 30 Days or 90 Days. For Tourist Visa Extension We Need your Old Visa Copy and Passport Copy.
United Arab Emirates ( دولة الإمارات العربية المتحدة ) is situated on Persian Gulf in western Asia. It is one of the Most Beautiful Piece of Land with strong economy rich culture and good leadership. It is one the fast Growing Tourists Destination and Commercial Business Hub Across all over the world. It's Sunny Beaches with blue shiny water, Big Malls, world best desert safari, real estate and vast Hospitality Industry attract more people. You can Enjoy each and every moment of your Stay here in economy budget with more recreations.
If you are looking for Best Sunny beaches with desert this is right best place to spend leisure time to make it memorable. Thousand of People visit every year this world class entertainment destination and every years number of visitors are increasing. Now you can Apply Online anytime if you want Instant Guaranteed Approval of Your Tourist Visa. We are available Round the Clock to assist you with all Possible Options.
Dubai is a land of of biggest malls and beautiful Skyscrapers which speak with sky. If you are explorer of high Sky this place is best for you to stay and Enjoy. Abu Dhabi is a capital city having Rich Arabs culture neat and clear atmosphere making it more attractive for visitors.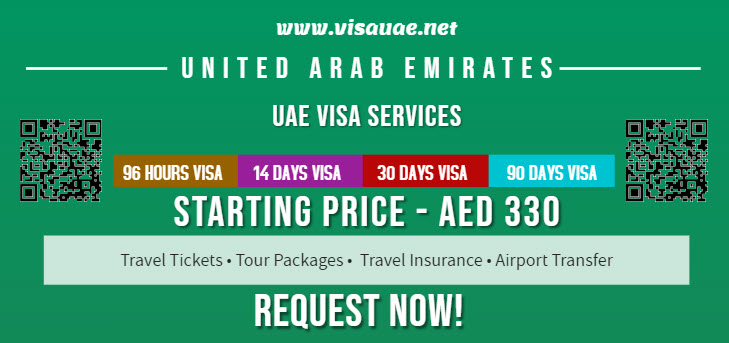 Visa Types
Visa Types
You can Apply UAE Visit Visa for following Days and Stay in United Arab Emirates for the given period of time which are extendable Except 14 Days and Transit Visa.
In case of over stay even for 1 minute you have to pay Penalty at airport so please make sure to leave before the expiry date.Why to Choose us for tourist visa.
Our Rates are very competitive as compared to others
No Hidden Charges or service fee
Easy Documentations
Easy to Apply like 1 2 3 No complicated process
Confirmation Email on Approval
Reminder Email & Call on Expiry date
Special Discount for regular customers
Best Travel Packages Deals for Groups